Custom Builds
The start of your custom home is one phone call away. With Reside by your side, build your dream home the way you want it.
At Reside, we take all your ideas, drawings, & random pictures and use your dreams to create beautiful & functional living spaces. Our creative team of architects & interior designers will help you design a residence that is exactly how you imagined.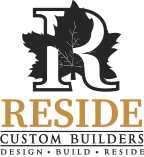 Custom House Design.
Do you have ideas for your next home and lots of images on your clipboard but don't know how to put it all together? This is what we specialize in, the true definition of custom that we call blank slate design. We don't just move a few walls from a previous design, we start fresh for every unique person or family. Ben has the design and building experience necessary and teams up with other designers to deliver a design and product that suits you, Your lifestyle, your budget. Ask us about our design-build process, we would love to help!
At Reside Custom Builders our vision is to transform all your ideas and dreams into a home that will last for generations.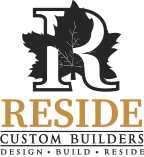 Custom House Build.
When your unique design is finished we start scheduling and building your home. We give our client free access to a project management app called BuilderTrend that helps control the flow of communication for homeowners, builder and trades. We manage schedules, photos, drawings and all documents, selections plus much more. So you can be in touch with your project wherever you are. Our project manager is on site every day for quality control, maintaining schedule and communicating with suppliers and trades. We also understand things change as the project progresses and we understand that Custom means there may be changes along we way. We are flexible and will go out of our way to make sure you are satisfied before construction progresses.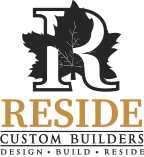 Reside
Celebrate! The home is complete and ready for you to move in, you can relax in the comfort and security of the home of your dreams. We will have your home registered with a warranty program and go above and beyond the minimum standards to ensure your satisfaction.
A home is where love resides, memories are created, friends are always welcome, and family is forever.
Featured Custom House Builds
This home was built for a growing farm family. There are many custom farmhouse features in here like the entry lockers and large mudroom/entry and the custom kitchen.
We were approached by these homeowners with a blank slate and nothing but dreams and a building lot with an amazing river view.
In addition to the structure of your house, Reside is also pleased to be able to present one of the widest cosmetic option sets in the Lethbridge area. Our unique commission structure means that each and every upgrade will be chosen and approved by you to suit the style and atmosphere of your home – not your bank account!
Should you have an option, eco friendly or otherwise, in mind that isn't listed here, we'd love to hear about and would be more than happy to provide a quote on any required or desired modifications to our already impeccable standards.
For a complete list of our material standards, please feel free to contact us.
"Ben at Reside Construction is a true professional. His mission is to build you a house that you will love, starting from the design process all the way to the finished product. His attention to detail, quality materials and hands on approach ensures you are satisfied with your project, whether it be a commercial space, renovation or new build." -Megan Skelly